About Us
Green Hills Diamond Brokers is family owned and operated. We are your premier diamond engagement ring and fine jewelry broker located in Nashville, TN.​​​​​​​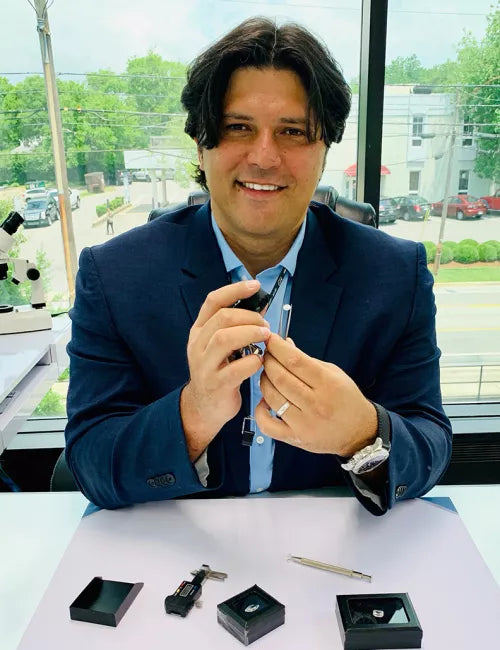 Our Story
David is a second generation diamond broker from Israel, who grew up in his parent's diamond cutting factory in Tel Aviv and received a hands-on, from the ground up diamond education. He studied how his father and uncles would take rough stones and polish them into faceted diamonds of all shapes and sizes. David then traveled throughout Europe and the US selling millions of dollars worth of diamonds to stores and wholesalers. His worldwide connections remain strong to this day.
Jennifer Michaeli, a Nashville native, studied gemology at the International Diamond Exchange in Israel and worked in Tel Aviv selling diamonds and fine jewelry to their clients from all over the world. Her clients inspire her! She loves to help people's visions come to life by designing unique pieces for them. Jennifer also enjoys writing informative articles on the diamond industry, jewelry trends,and gemstones for media publications.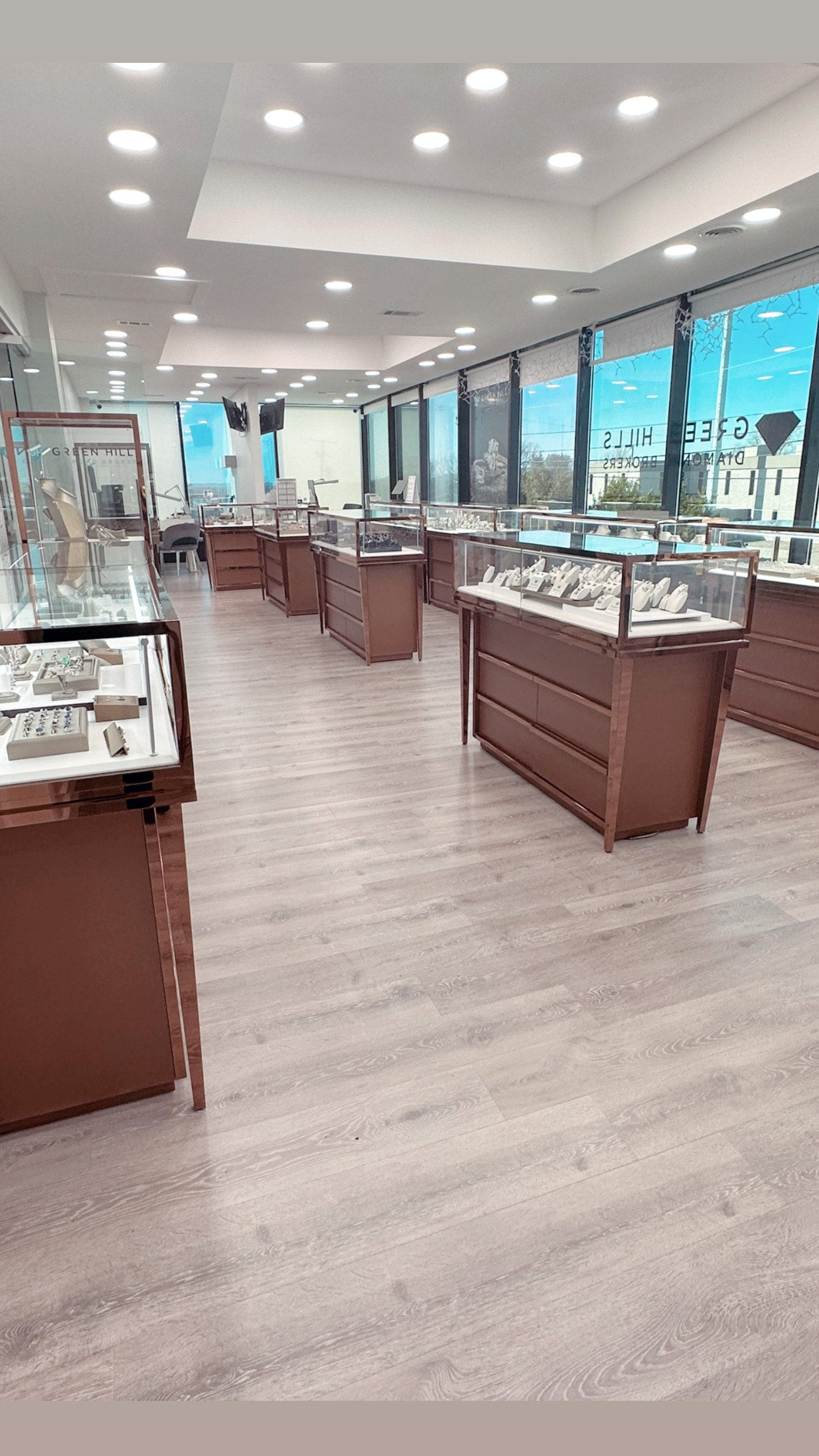 In 2015, they were excited to learn of the extensive growth of Nashville, Jennifer's hometown, and decided to return to Tennessee and bring all their knowledge and experience in the diamond and fine jewelry industry with them.

Their vast experience translates into an exceptional, intimate experience for you, different than anything you will find at any other jeweler in Tennessee. Maybe that's why some of their clientele include music industry movers and shakers, professional athletes, and entertainers.

Now, you have the opportunity to use Green Hills Diamond Brokers for all your diamond and fine jewelry needs too! They take a practical, more relaxed approach with their clients. When you walk through their door, you are welcomed into their private offices to sit down with them, one-on-one.

Maybe you'd like to take a step back and learn more about the world of diamonds? By educating you and sharing the "mysteries" of the diamond industry, how quality impacts cost, you will be able to make an informed choice without pressure or anxiety.

Their number one priority is to ensure that their clients get the best value for their money. Visit them today and see how much you can save by going to Nashville's Premier Diamond Broker.
Need help?
Frequently Asked Questions
At Green Hills Diamond Brokers, new customers who are looking to buy diamond engagement rings and fine jewelry walk through our doors every day. Some know exactly what they want, while others are experiencing the excitement of buying a diamond for the very first time. In "Dear Jenny", we have compiled some of the most common questions from new customers and are sharing them here, so that no matter what your knowledge level, you can feel confident in knowing that you have an expert in the diamond industry who you can turn to for guidance.
We have been in the jewelry business since 2009. David grew up in his family's diamond cutting factory in Tel Aviv, and I studied gemology at the International Diamond Exchange where together, we sold diamonds and designed fine jewelry for our international clientele. Our clients included retail store owners from all over the world like Japan, Russia, India, Georgia (the country). We also brokered diamonds in New York, London, and the list goes on and on. Until this day, we still maintain these connections. After our time in Israel, we moved back home to Nashville in 2015 and brought our broker business model with us.
The differences are too many to list!  At a retail store, the person selling you diamonds may have been selling you shoes or ice cream a few weeks ago. Not here! We have gemologists on staff including a top GIA trained gemologist who worked in the GIA laboratory for 15 years. She is our office manager, Patricia Mitchell. Just to name drop, she has the distinction of having graded Elizabeth Taylor's 69 carat Taylor Burton diamond and the exquisite precious gemstone collection of Microsoft co-founder Michael Scott! 

We do not sell diamonds over a sales counter. You sit with us one-on-one in our private offices and receive a top-notch education on diamond quality and value. Like so many other places do, you won't get five different prices as you are walking out the door. We are brokers, meaning that we deal directly with diamond cutters, most of whom are our family, to get you the best diamond in your price range. We have so much inventory that we actually sell to stores and are able to sell to the public at broker prices. We have the resources to get you anything your heart desires. We are not on commission or here to sell you an insurance plan or store credit. We strive for transparency and are able to get you the ring of your dreams. You get more for your money by coming to us, the brokers. 
We sell with a 30-day money-back guarantee policy. You can upgrade as well. We will upgrade your diamond even if you didn't purchase it from us.  If you want the option to go bigger and better, and you can do that here.
From design to finish, about four to six weeks. That is the case when we start from design, make it in wax, get your approval, cast it, etc.
Diamonds!  Particularly, diamond engagement rings. Those are our biggest sellers. We have designer brands and our own in-house brand.  We also sell all types of diamond jewelry: bracelets, anniversary rings, earrings, bangles, you name it. We also buy and sell heavenly blue sapphires, red rubies, estate pieces, and so on.  We do a lot of custom work too.
In terms of cost, 18kt gold and platinum are roughly 20% higher than 14kt gold. 14kt is the most durable of the golds and it scratches less easily than 18kt gold.  However, sometimes that warm, buttery look of an 18kt ring just captures your eye and you have to just go for it. Platinum is also strong; it doesn't need to be rhodium finished to keep it bright like white gold often does. However, it scratches easily so you will want to have it buffed and polished from time to time, and we can do that for you.
We buy diamonds and fine jewelry in any condition.  We buy Swiss-made luxury watches such as Rolex, Cartier, Patek Philippe, etc. We also buy gold and gold coins. We pay very well for gold – so well, in fact, that many dealers in the business sell their gold to us.  We are interested in buying any designer jeweler that you may have such as Tiffany and Co., Van Cleef and Arpels, Harry Winston, etc.

There really is no question that we can't answer at Green Hills Diamond Brokers! We specialize in diamonds 1.5 carats and up and have a dreamy selection of GIA certified diamonds for you to choose from. You can choose a rose, yellow, or white gold mounting in any design your heart desires or go custom and design a unique setting just for you. Check out our large selection of diamond stud earrings, bangles, pendants, and more! See how much more you can get by coming to us, Nashville's premier diamond broker only at Green Hills Diamond Brokers.